Grammar: A story - Questions and negations on the web-site for teachers and learners of English as a secondary language from a German point of view
---
Berit Witthohn: Formation of questions and negations
translated by Class 8a of Clemens-Brentano-Realschule, Koblenz
A little story:
An old man lives in a crowded street and everyday he must cross the street to go shopping. He isn't so good at walking. That's why he needs some help for walking. The old man whose name is Mr Verb has got a stick. He has given his stick a name. His name is "Auxiliary".

Auxiliary verbs are: can, must, be, would, might, could, may, have…
Or simpler:
As soon as there follows another verb the first one will be the Auxiliary. When Mr. Verb has got his stick with him, he can get to the opposite side
| | |
| --- | --- |
| | As you can see, the Auxiliary and the subject change their places. If there is a question with an Auxiliary this one will take the first and the subject the second place. |
But Mr. Verb is infirm/weak. So he sometimes forgets his stick.

But that's not so bad, because there lives a little neigbouring boy who is very helpful. This boy will come running if Mr. Verb forgets his stick and takes him by his hand. He takes the role of the stick so to say.
In reality it looks like as follows:
| | |
| --- | --- |
| | There, where actually the auxiliary ought to be, there is a an empty space. Well, you can't put anything in front of the subject because there isn't anything available. But in a question there must be something in front of the subject. |
Therefore "do" jumps in. Little "do" is a very helpful boy. When Mr. Verb has done the shopping, he takes the shopping bag and carries it.

What can Mr Verb buy?
Well, he, she, it is accompanied by "-s". That's the one thing, which he buys.
| | |
| --- | --- |
| | When "do"" takes the shopping bag he will become "does". And remember there is only one shopping bag. The verb hasn't got it anymore. He loses all his qualities |
The same thing happens in the simple past. Here "do" will become "did".

So far as to the simple questions. This transcription with "do" occurs only in simple present and simple past. Because all other tenses are compound tenses and have an Auxiliary of their own.
And at last here's the sentence diagram of the English question once more:

(Question word) + Auxiliary/do + Subject + Verb + Object
So, the same principle is used in the negation. Whenever we have an Auxiliary we simply put a "not" after the Auxiliary. If the Auxiliary is missing we'll put a form of "to do" in front of the full verb and let "not" follow.
Examples;

| | |
| --- | --- |
| I can play the piano. | I cannot (can't) play the piano. |
| We play cards. | We do not (don't) play cards. |
| He plays tennis. | He does not (doesn't) play tennis. |
| They went swimming. | They did not (didn't) go swimming. |
"Do" gets all the characteristics of the verb again and the verb is in infinitive form.


Never combine "do" and "be"
That means: If there is a form of "to be" in the sentence, there won't be a form of "to do", even if "to be" is the only verb in the sentence.
So, if everything is clear, you can challenge your knowledge in the following exercise. First you have to put the sentences in the negative form and afterward you'll have to find questions.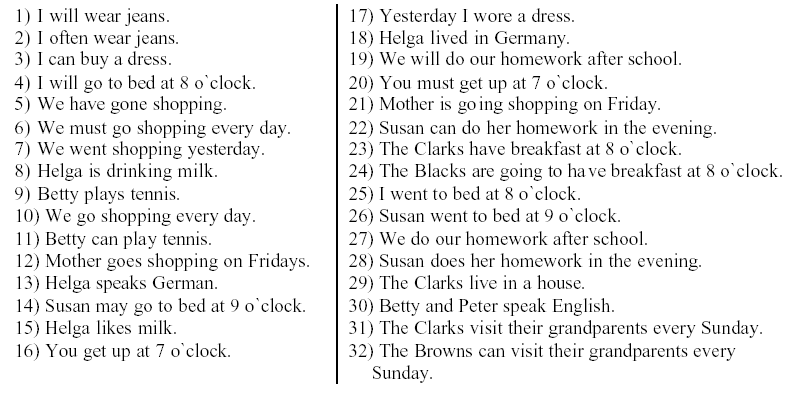 ---