Quality management in a teacher's trainee seminar: A vision for all members and customers of the seminar on the web-site for teachers and learners of English as a secondary language from a German point of view
---
Copyright © 2004
QM im Studienseminar: Vision & Mission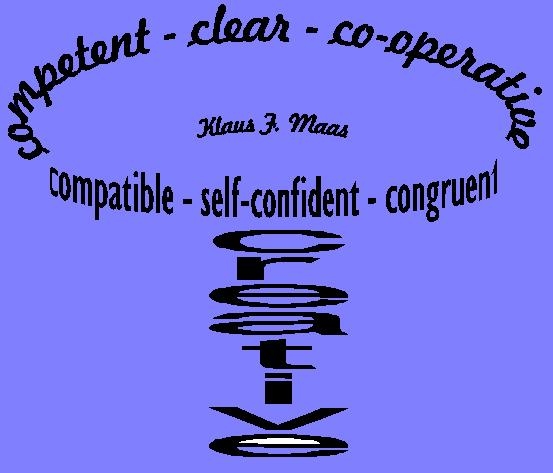 Klaus F. Maas Copyright © 2001 *
* Explanation of the characteristic features
All people involved in the teacher education at the seminar are....

| | |
| --- | --- |
| competent | i.e. they are properly or sufficiently qualified, capable and efficient, adequate for the purpose |
| clear | i.e. they are free from confusion or guilt to work with by ease and quickness in perceiving |
| co-operative | i.e. they work with others for a common purpose or benefit, willing to adjust to differences in order to obtain agreement |
| congruent | i.e. they are associated in their actions with their own character and goal. |
| compatible | i.e. they are able to understand each other and to work together as reliable partners to pool talent and knowledge and share assistance and support |
| creative | i.e. they promote the construction or creation of new methods |
| self-competent | i.e. they show poise and confidence in their own worth |
Vision
All teacher trainees are capable of achieving excellence through
the use of a variety of strategies,
the contact with their personal resources,
a lot of different assessments,
dedication, and
the readiness for life-long learning
in an involving and collaborative environment.
They gain satisfaction and excellence from practising their profession by using and extending their factual, professional, organisational and social competencies, so that they will qualify themselves for teaching the next generations of students.

Copyright © 2004
Mission
All efforts of the stuff responsible for the teacher training aim at strengthening the teacher trainees'
competence of action,
commitment and self-confidence
ability of critical reflections,
readiness for action,
organization skills, and
motive power for innovation with a good pedagogical judgement
in order to improve the efficiency and efficacy of teacher education for a satisfying
professional life.
It is the task of the staff 1 of the "seminar" 2 to provide the teacher trainees the opportunity to develop their skills, aptitudes and resources holistically which means
to increase their factual, functional and professional knowledge with the help of theories, practical application and analysis to be prepared for being effective communicators;
to expand their opportunities in the field of didactic and methodical decision making processes in order to become self-directed partners in a team of colleagues;
to clear up in co-operation with the teacher trainees some relevant systemic relations among students as well as between students and teachers in order to develop conflict solving strategies;
to help the teacher trainees to evaluate their personal values according to their relation to the values of the community, so that they are able to act adequately in their own responsibility;
to create an inspiring learning environment that makes the teacher trainees proceed to excellence in and for their profession with self-determination.
Training modules of the highest possible standard accompany the teacher trainees on their way to success. The creativity of everyone is used and practised by working in teams. ("Group Task Performance")
Everyone involved in the teacher training is responsible for the outstanding quality of instruction and performance ("excellence"), which is reached by continuous learning, innovation and improvement.
In inter-related activities - systematically managed in planned operations - current claims are evaluated and improvements are made using reliable information on team perceptions.
Everyone takes care that pollution is minimized and the resources of the environment are preserved.

Copyright © 2004
---

1 The personnel of a "seminar" (a teacher training centre) consists of the head of the seminar and his deputy, heads of departments of different subjects and clerks.

2 A "Seminar" is a teacher training centre which provides lectures, practical training, sample lessons and assessments of giving lessons. At the end of an 18months' training period there is a final examination (an examination paper, 2 lessons and oral examinations)

---