Grammar: Future tenses in weather reports on the web-site for teachers and learners of English as a secondary language from a German point of view
---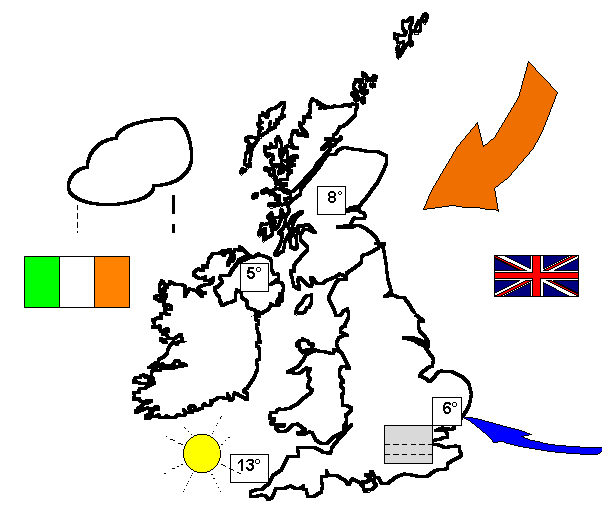 Now here is the weather forecast for the next twenty-four hours:
The night will be cloudy but dry. Tomorrow morning there will be rain in the north of Scotland and there will be strong winds coming from the north-east. If you are lucky, you'll get some sunshine in the west. The temperatures will be 6 degrees in England, 8 centigrades in Scotland, 5 degrees Celsius in Northern Ireland and 13 degrees in Cornwall.
And the outlook: It'll be warmer and sunnier.
And now a warning for all drivers in the London area:
Will all drivers in the Thames valley please be very careful - there will be some fog. And if you are thinking of driving very early in the morning, try and stay at home. The fog will be very thick then.

---
sky
fine, clear, dry
sunshine
beautiful, sunny
to shine
warmth
warm, hot, sultry
cloud,
clouds with sunny periods
changeable
unsettled overcast
fog
foggy, damp,
smog
sultry , calm
mist
moist
breeze
wind
windy
to whistle
gale
rough, nasty
to howl
strong gale
violent
to rage
storm
stormy
thunderstorm
thunder
lightning
hurricane
rain, pouring rain
rainy
to rain cats and dogs
drizzle
wet, drizzling
to drizzle
shower
to soak
cloudburst
to pour
hail
to hail
snow
to snow
snowfall
snow drift
snow-storm
blizzard
ice
icy, slippery
icicle
frost
fresh, cold, chilly, bitterly cold, freezing
to freeze, to melt, to thaw
slush
slushy
---